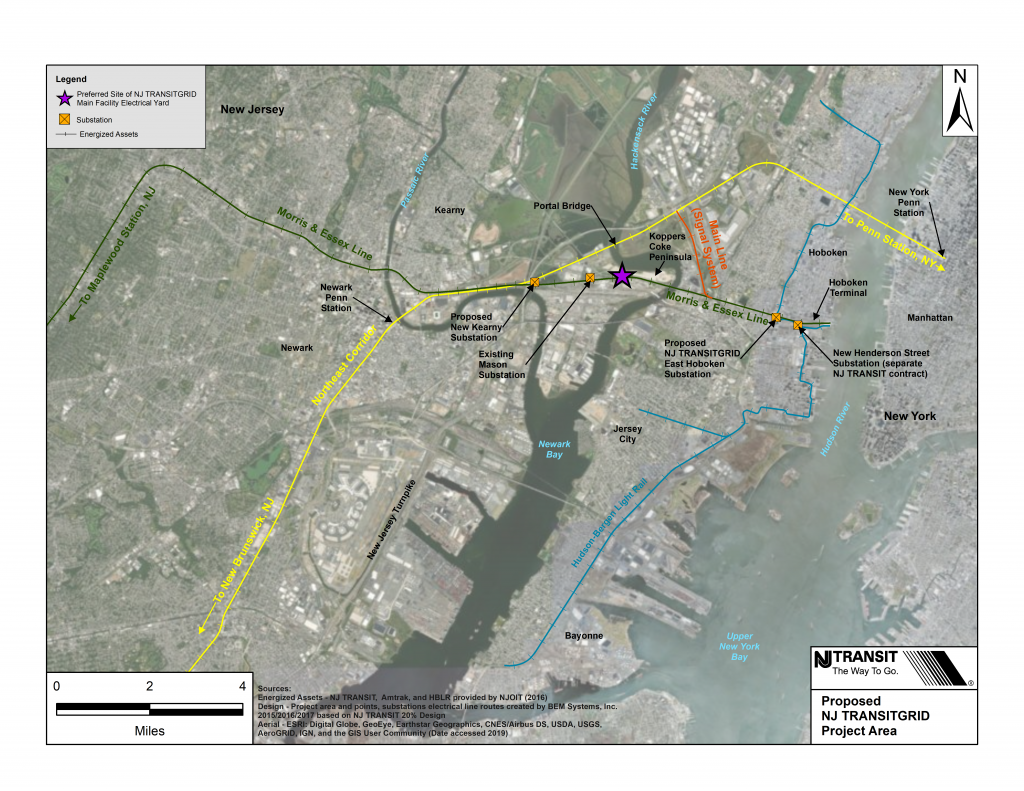 Download NJ TRANSITGRID Project Area PDF
NJ TRANSITGRID
To provide a reliable energy supply for a targeted portion of rail infrastructure, NJ TRANSIT will construct a microgrid capable of supplying highly reliable electric power during storms or other times when the commercial power grid is compromised.
NJ TRANSIT is committed to investing in a more sustainable future. To that end, the agency announced an ambitious plan to increase the project's renewables and zero-emission profile, while reducing harmful emissions consistent with New Jersey's Energy Master Plan and the Governor's clean energy vision. NJ TRANSIT is soliciting an updated review of renewable or other zero emissions energy technology that may supplement or replace the current power generation design for the Proposed Microgrid Central Facility.
The NJ TRANSITGRID microgrid will consist of a central, electric generation facility, as well as transmission and distribution lines to traction power substations that electrify the tracks and operating controls on portions of the NJ TRANSIT and Amtrak systems. The proposed facility will operate 24/7 and be sized to handle limited operations on the Northeast Corridor between New York's Penn Station and NJ TRANSIT's Jersey Avenue Station in New Brunswick; the Morris & Essex line between Hoboken Terminal and Maplewood Station; and the Hudson-Bergen Light Rail (HBLR) Transit System. The Project will also provide power to the signal system on a portion of the Main Line.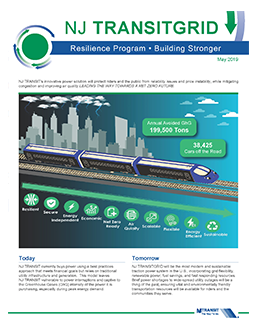 Energy Benefits Fact Sheet
English
Spanish (Español)
Haitian Creole (Kreyòl Ayisyen)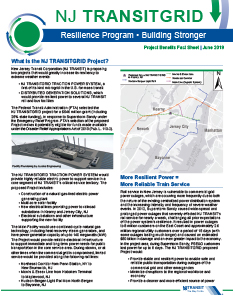 Project Benefits Fact Sheet
English
Spanish (Español)
Haitian Creole (Kreyòl Ayisyen)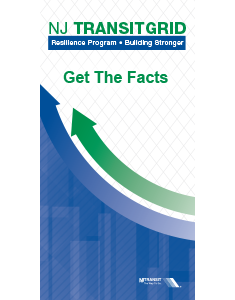 Get the Facts
English
Spanish (Español)
Haitian Creole (Kreyòl Ayisyen)
Location
NJ TRANSITGRID Microgrid Central Facility will provide reliable power to key NJ TRANSIT facilities and portions of the Northeast Corridor, Morris & Essex Line, HBLR Transit System, and the signal system on a portion of the Main Line. Traction power and certain elements of NJ TRANSITGRID will be powered by a central facility that will include renewables technology, to the extent technically feasible, with a proposed location in an industrial zone in Kearny, NJ, close to two substations that serve the Morris & Essex line and the Northeast Corridor. Other elements of the project will be located at specific facilities serviced by those generation assets.
NJ TRANSITGRID will:
Maintain and enhance mobility and regional security in the event of power outages and emergency situations;
Minimize disruptions to the regional workforce and economy;
Enhance electric grid reliability, providing additional sources of power by eliminating a single point of failure at existing interconnection points to reduce cascading impacts of service issues;
Minimize source pollutants by replacing older, less efficient energy generation with newer, cleaner generation technologies;
Ensure NJ TRANSIT is not subject to broader cyber security threats that could otherwise disrupt transit service;
Create employment opportunities in facility operations, maintenance, and ancillary services;
Allow openings for over 4,000 new jobs – and nearly $300M in earnings
NJ TRANSITGRID will advance as a result of a grant awarded by the FTA, through FTA's Emergency Relief Program for resiliency projects in response to Superstorm Sandy.