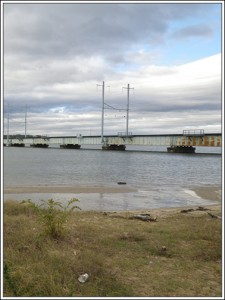 Recognizing that bridge resiliency is essential to safe and reliable operations along the North Jersey Coast Line (NJCL), the Raritan River Bridge Replacement Project (River Draw) will replace the existing swing bridge that carries NJ TRANSIT's NJCL trains over the Raritan River between Perth Amboy and South Amboy. The new bridge will be on an alignment adjacent to the existing bridge, which suffered damage during Superstorm Sandy. Built in 1908, River Draw is the sole rail link for 17 of the 20 stations on the NJCL to the major job centers of Newark, Jersey City, and Manhattan. It carries almost 10,000 daily NJ TRANSIT customers and moves two million tons of freight annually via Conrail.
Taking advantage of structural design approaches and materials that are able to withstand ocean surge forces and saltwater immersion, the new Drawbridge will be significantly less vulnerable to severe weather events. Proposed components to achieve infrastructure resilience include new reinforced concrete piers on piles; new steel superstructure; new drive motor and electrical controls; tie-ins to existing track; vertical adjustment of existing track; and electrical catenary relocation.
Replacing River Draw will allow NJ TRANSIT to continue to move commuters and recreational rail customers to critical job centers and Shore communities for years to come—without prolonged interruptions related to severe weather events. During construction, NJ TRANSIT will keep the existing bridge in service for minimal service disruption.
The Raritan River Bridge Replacement Project will advance as a result of a grant awarded by the Federal Transit Administration (FTA), through FTA's Emergency Relief Program for resiliency projects in response to Superstorm Sandy.
NJ TRANSIT is conducting the Raritan River Bridge Replacement project in accordance with FTA procedures for transit projects. An Environmental Assessment (EA) / Section 4(f) Evaluation was prepared in accordance with the National Environmental Policy Act (NEPA) and was made available for review. A public comment period for the document ran from June 14, 2017, through July 14, 2017. For more information, click here.
On October 13, 2017, the Federal Transit Administration (FTA) issued a Finding of No Significant Impact (FONSI) for NJ TRANSIT's Raritan River Bridge Replacement Project as part of the NEPA process. The FONSI was issued after it was determined the project has no significant effect on the environment. Final Design will start fall 2017 and is scheduled to be complete by the end of 2018. To view the FONSI, click here.

Raritan River Bridge Replacement Video
Click here to read along with the video
Public Information Sessions
NJ TRANSIT in cooperation with the Federal Transit Administration (FTA) held Public Information Sessions on the Raritan River Bridge Replacement Project. Detailed information about the project was available at the Public Information Sessions, which provided opportunities for the public and agencies to comment on the project. The Sessions were held in two locations:
Perth Amboy, NJ:
Alexander F. Jankowski Community Center
Community Room
1 Olive Street
Perth Amboy, NJ 08861
Tuesday, September 20, 2016
4:00 pm – 7:00 pm
South Amboy, NJ:
City of South Amboy, City Hall
South Amboy Council Chambers
140 North Broadway
South Amboy, NJ 08879
Tuesday, September 27, 2016
4:00 pm – 7:00 pm
Comments may also be submitted electronically via this website.
For the Public Information Session notice, click here.