Public Meeting on March 17, 2020, for the proposed demolition of the Lackawanna Records Building, is cancelled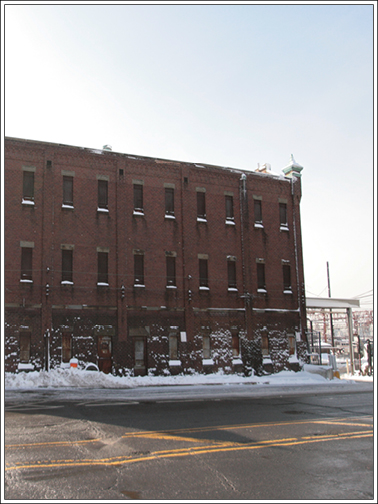 The Lackawanna Records Building was designed by noted architect Frank J. Nies and was constructed in 1904 by the Delaware Lackawanna and Western Railroad. It is located at the northern border of the NJ TRANSIT Hoboken Rail Yard along Observer Highway in Hoboken, New Jersey. Since the Records Building is the oldest surviving building associated with the Hoboken Rail Yard's early 20th century rail facilities, it is eligible for listing in the National Register of Historic Places as a contributing resource to the Old Main Delaware Lackawanna and Western Railroad Historic District.
The building has been vacant for decades and has not been used for its original or any subsequent function for many years. The exterior walls are bowed with wide cracks, and there is extensive deterioration of the roof, upper parapet stones, and corner roof turrets. Ongoing water infiltration exacerbates the deterioration. With a recent collapse of a portion of the roof parapet, inspections undertaken by several independent engineers resulted in the recommendation that the Records Building be demolished.
NJ TRANSIT's top priority is ensuring public safety while respecting the historic significance of the building. To that end, NJ TRANSIT is complying with the requirements of the National Historic Preservation Act (Section 106). Key elements of the Section 106 process are to consult with the appropriate state and local agencies and interested parties to assess whether an activity affects those historic properties and if so, to determine an appropriate course of action. Consistent with the Section 106 process, appropriate outreach has and is occurring to assist the Federal Transit Administration, which is responsible for conducting the Section 106 review to complete their work. The following is a proposed schedule of activities related to this Project:
Conduct Hoboken Public Meeting – March 17, 2020 –

CANCELLED

Finalize Preferred Alternative – April 2020
Implement Preferred Alternative

Cancellation of March 17, 2020 Public Meeting For The Proposed Demolition of the Lackawanna Records Building.

Out of an abundance of caution, and in light of two recent declared States of Emergency by the State of New Jersey and the Hoboken Office of Emergency Management regarding Covid-19, the Public Meeting on March 17, 2020, for the proposed demolition of the Lackawanna Records Building, is cancelled.